A Thank You Letter from a Student's Family Received 11 University Offers in 2019
Nowadays, more and more parents send their children abroad to study. Through my daughter's study journey in Canada in the past few years, I want to share my story of how to help her success. My daughter got eleven offers to all universities applied with entry scholarships.
Teenagers who wish to achieve satisfactory results must have a wide range of hobbies, volunteer experience, and their surroundings. They should be not only excellent in academics but also outstanding in other aspects. It can reflect a particular personality charms and talents. In short, there must be various favourable strategies for facing further studies.
From October 2017 to July 2019 we insisted our daughter to take online classes at Toronto eSchool. During this period of the time, my daughter takes a three-hour-long commute to attend classes no matter how bad the weather is; she never gives up.
There are so many pathways to study in Canada: night school, summer school and online courses. We chose Toronto eSchool because it is the most convenient for us. Regardless where we went for holidays, we can still get access to those course materials and those excellent teachers. We are fortunate that we have the support from Toronto eSchool during the last two years of my daughter's high school years. We cannot believe our eyes when we saw all those ELEVEN universities we applied gave us an offer with entry scholarships. We cannot thank Toronto eSchool enough for their generous support and guidance throughout these two years.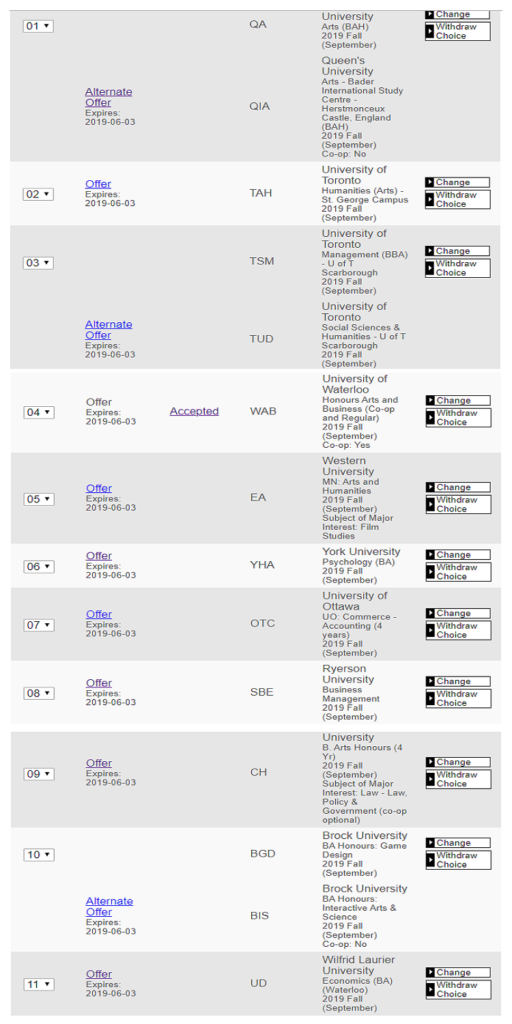 It is essential to know your children's actual learning progress since the beginning of grade 11 semesters. Helping them to find their strengths, weaknesses and their goals are the keys to success. Picking the right courses for your children is extraordinarily essential and must be cautious. Every decision made and every achievement obtained is a stepping stone for university application. School's teachers are very experienced. They know the right learning style, which best suits your children. The teaching and learning here emphasize the ability of self-consciousness and self-management. Fortunately, my daughter is very independent and keen on learning on her own. We generally spent more time in the library and online via both online tutoring and classes. Online classes are not restricted by geography. There are excellent teachers to teach, many videos, exam materials, homework, and interactive discussions to complete each unit. There are many lessons in each group. Each lesson takes about an hour to complete any time, anywhere as long as there is a network. If you want to apply for a good university, you can't take it lightly. Every single assignment/exam is fundamental. Through the child's efforts and the help of the teachers, my daughter got accepted by her dreamed university at the age of seventeen. The threshold for children to enter university is only the first step to success. There is a long way to go. My child is going through foreign-education-system, mostly on her own. As a parent, I want to support her in every possible way.
Once again, I can not thank you enough to all teachers, staffs and the Principal at Toronto eSchool who helped us to success. I will keep all those graduate appreciation in my heart the whole time. I wish all of you will get into your top choices very soon in the future.
Sincerely,
Lisa's Mother