ENG4U English Grade 12 Online Course – Toronto eSchool OSSD Credit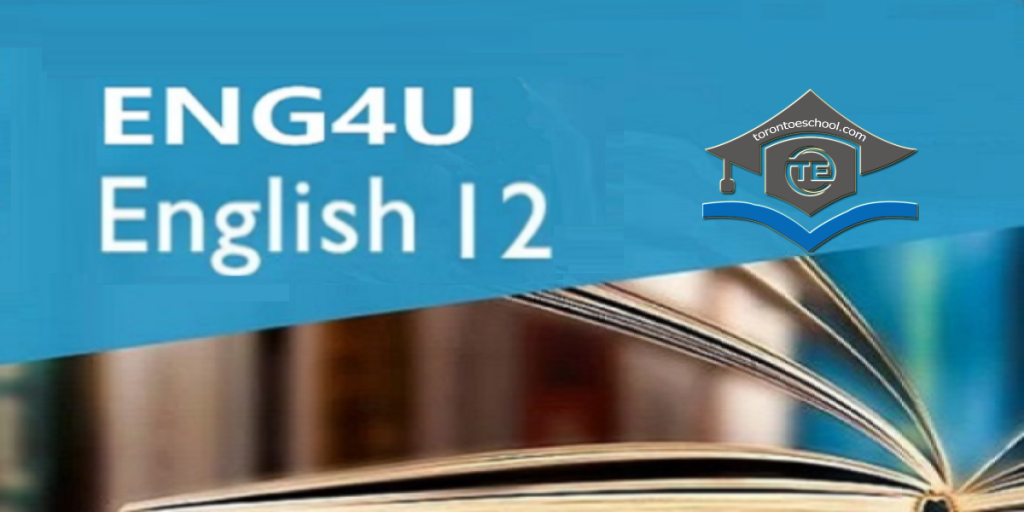 ENG4U English Grade 12
ENG4U English Grade 12 is one of the major compulsory courses for admission to all universities. Get ready for university applications in Ontario with Toronto eSchool's Grade 12 English course.
Course Title: English, Grade 12, University Preparation
Course Name: English
Course Code: ENG4U
Grade: 12
Course Type: University Preparation
Credit Value: 1.0
Prerequisite: ENG3U, English, Grade 11, University Preparation
Curriculum Policy Document: English, The Ontario Curriculum, Grades 11 and 12, 2007 (Revised)
Course Developer: Toronto eSchool
Department: English
Department Head: Erin Weir, B.A.(Hon), B.Ed., OCT
Development Date: 2014
Most Recent Revised Date: 2020
ENG4U – English 12 course emphasizes the consolidation of the literacy, communication, and critical and creative thinking skills necessary for success in academic and daily life. Students will analyse a range of challenging literary texts from various periods, countries, and cultures; interpret and evaluate informational and graphic texts; and create oral, written, and media texts in a variety of forms. An important focus will be on using academic language coherently and confidently, selecting the reading strategies best suited to particular texts and particular purposes for reading, and developing greater control in writing. The course is intended to prepare students for university, college, or the workplace.
Unit
Titles and Descriptions
Time
1
Novel Study "Tuesdays with Morrie" By: Mitch Albom

Summary – first 99 pages and author's attitude
'End of book' Video Presentation of Literary Analysis
Comparison Task – Personal & Literary Moral Evolution
Literary Essay – Persuasive & Narrative Techniques
Final Quiz

28 hours
2
Poetry

Analysis – Reoccurring Imagery & Symbolism
"How to Construct a Shel Silverstein Poem" Pop Quiz
Dramatic Presentation/Reading
Creating your own poem – Format, style & literary elements

12 hours
3
Current & Past Events/Advertising/Media Forms

Website Exploration
"I have a dream…" by Martin Luther King Jr. analysis – tone, vocabulary and rhetorical patterns
Developing Perspective – "Coca-Cola Receives Racist Backlash For Recent Super bowl Ad"
Comparative Paragraph: Violence Against Women and the 'HeforShe' campaign at the UN
Response Paragraph: Credibility of the claims in the documentary film 'Photographing the Nuclear Disaster in Fukushima' by VICE
Video/Multimedia Creation and Presentation

20 hours
4
Shakespeare's "Hamlet"

Modern Day Parody – Adaptation
Analysis of Soliloquy Act III, Scene i
Comparative Essay: Soliloquy Act III, Scene I with Life Lessons from "Tuesdays with Morrie"
"The Lady of Shalot" and Bias Analysis
"New Words in Hamlet" Oral presentation
Eulogy Assignment
Final Acts Quizzes
Literary Essay

40 hours
5
Final Assignment – online journals as EXIT CARD
8 hours
Final Exam
2 hours
Total
110 hours